One of the great things about Onshape are the parts libraries and featurescripts created by the community. This page is a list of some of the most useful ones we've found.
MKCad Onshape Library
This library has a wide variety of COTs parts which can be easily imported into your assemblies. This is a community created library and you can see its latest updates in the ChiefDelphi Thread.
The easiest way to use this library is to subscribe to the MKCad App, which is available on the Onshape App Store. Simply click "Subscribe" on this page and follow the prompts.
Once you have subscribed to the app, it will be available in your assemblies on the right side of your screen: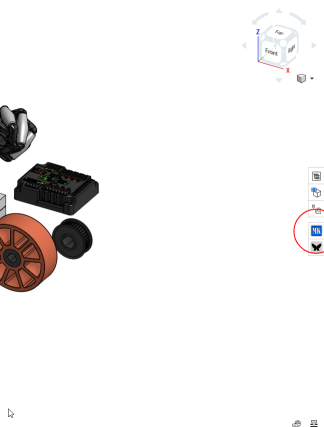 Clicking on this icon will open up the app. Click on any document or search to find parts and assemblies.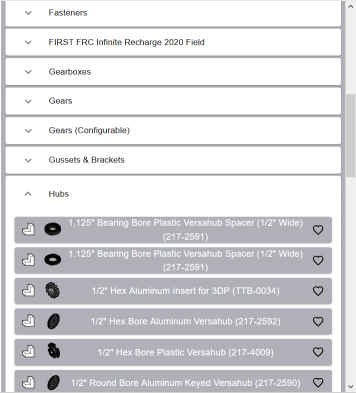 Clicking on a part or assembly will insert it into the currently open assembly. If the part or assembly has configuration options, a menu will appear allowing you to select these.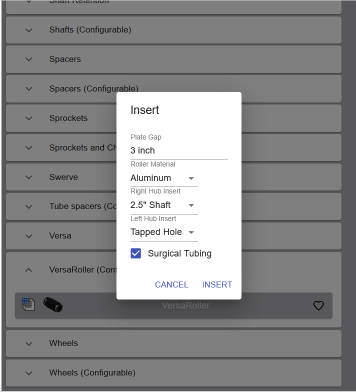 You can also label the MKCad documents to use with the normal insertion menu.
Do a public search in Onshape by clicking this link.
Click the label icon in the top right (next to the trash can) and then in the drop down click 'Create New Label'. Call it 'MKCad'
Next you will add all documents from this search to the label by right clicking on the document, clicking 'Labels...', then adding to the newly created MKCad label
You should now see the label with all the documents on the left side of navigation below the create button.
Featurescripts
Onshape has their own scripting language to create custom features to automate aspects of design called Featurescripts. There are also a lot of community generated scripts which are particularly useful to FRC.
Extrude Individual
Tube Converter
Custom Length Extrusion
FilletXpert
Shaft Generator
Spacer Generator
Gusset Generator
Lighten
Plate Generator
Belt Generator
Spur Gear Generator
Isogrid Pattern
Motor Mount Hole Generator
Automated Part Numbering
Laser joint generator
T-slot joint generator
Automatic part layout
Are We Missing Anything?
If we're missing any useful resources be sure to let us know so we can get it added.
Add to the CAD Library